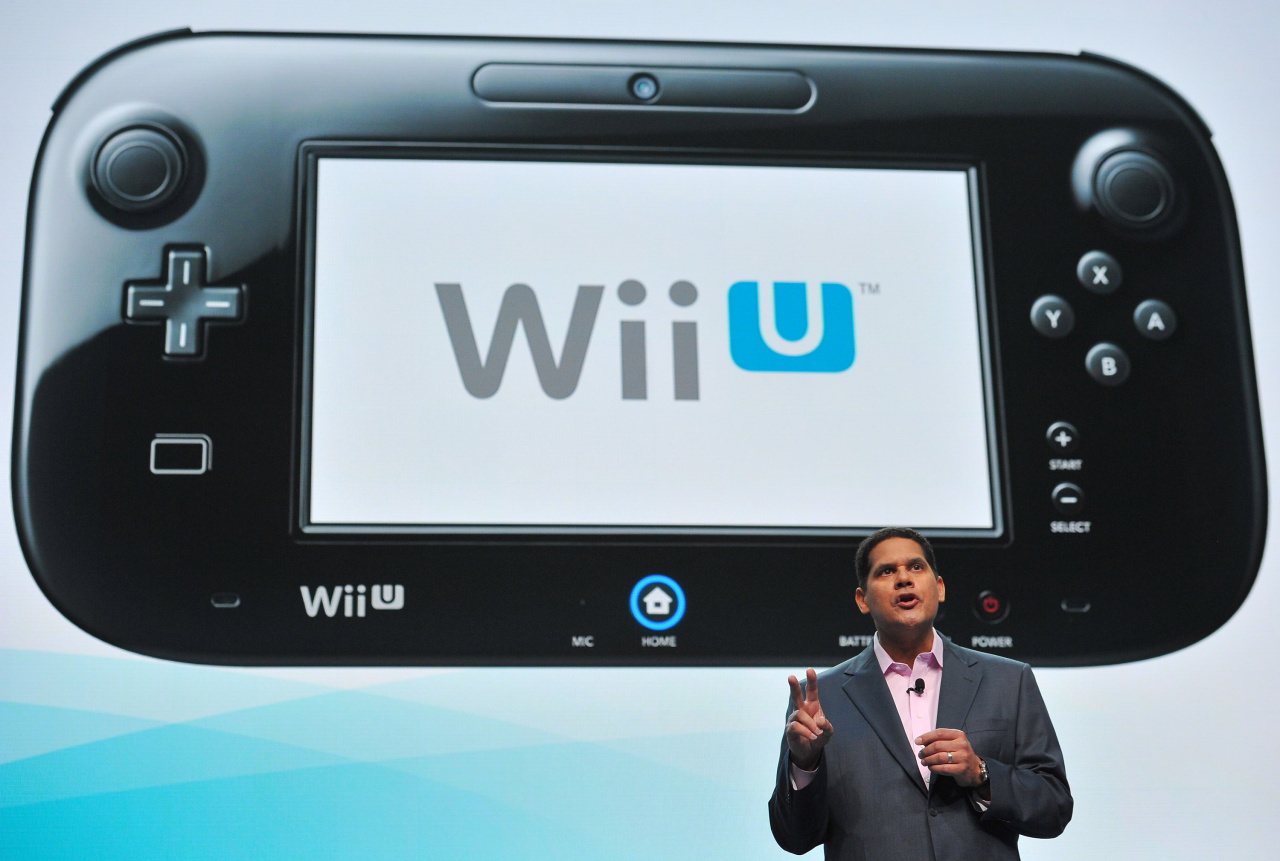 Nintendo's press conference kicked off with Nintendo's main man Shigeru Miyamoto being pursued by some cute CGI Pikmin. After a fun star, Miyamoto goes on to introduce Pikmin 3, the first Nintendo developed game to be announced for the Wii U tonight. As well as looking incredibly adorable, Pikmin 3 features a brand new type of Pikmin. Rock Pikmin can break down walls. Pikmin 3 will be compatible with either the Wii U pad or the WiiMote.
Miyamoto then exits the stage to be replaced by Reggie "my body is ready" Fils-Aime. He explains what we should expect from the Wii U game pad (with help from a brief video), then goes on to discuss the MiiVerse. Working as a feature on the Wii U, the MiiVerse will be shown as the home screen when the Wii U is switched on. It displays all of your friends, as well as those who use the console, and acts as a place to interact about the games you are playing.
New Super Mario Bros. 2 was then shown. It contains a new boost mode, new power ups and features on the Wii U game pad. It doesn't look that different from New Super Mario Bros., but no doubt it'll be a fun multiplayer.
It was then time for some third party titles for the Wii U. The first of these was Batman:: Arkham City Armoured Edition, which uses the Wii U game pad to control Batman's gadgets, amongst other things. The graphics looks crisp and impressive, whilst the Wii U game pad gameplay is promising. Good stuff!
Scribblenauts Unlimited allows players to create their own bunch of wacky items, and looks cute and vibrant in HD.
Aftr this, a brief video showing other third party releases was shown. These were: Darksiders II, Mass Effect 3 (this one got a huge cheer from the audience), Tank! Tank! Tank!, Tekken Tag Tournament 2, Trine 2: Directors Cut, Ninja Gaiden 3: Razor's Edge, Aliens: Colonial Marines.
Back to Nintendo again, with the introduction of the latest fitness title, Wii Fit U, which allows for gameplay through the game pad rather than the TV, and brings brand new fitness features. Balance boards will still work with this.
Karaoke title SiNG is next, where an incredibly forced "gameplay" trailer is shown. The Wii U game pad is used to read the lyrics, whilst dancing actions are shown on the television screen.
A small amount of time was dedicated to the Nintendo 3DS next, where New Super Mario Bros 2 showed off plenty of gameplay...and coins. Lots of coins. Paper Mario: Sticker Stars and Luigi's Mansion 2 both look brilliant, whilst he mentioned that Castlevania: Mirrors of Fate, Kingdom Hearts 3D, and Epic Mickey: Power of Illusion were on their way. A separate 3DS separate conference was presented on Wednesday.
A cute and amusing trailer for Lego City was shown next, which shows off the free-roaming aspects of the game. Lego City Undercover is also in development for the 3DS.
Ubisoft took the stage next to show off their mature zombie title, ZombiU, where the game pad is used for sniping, scanning and much more. Just Dance 4 was demoed, which shows how the Wii U game pad is integrated into the dancing. Also shown in a brief summary clip was Rabbids Land, Assassins Creed III, Your Shape: Fitness Evolved 2013, Rayman Legends, Marvel Avengers: Battle for Earth and Sports Connection.
Finally he conference ended with the unveiling of Nintendo Land, which includes 12 mini games based on some of Nintendo's best known series, such as Zelda and Mario. By the looks of things, this will be packaged in with the Wii U when it is released this November.
The best games in Nintendo's conference:
Pikmin 3
ZombiU
Paper Mario: Sticker Star
Luigi's Mansion 2